---

Priority Controller

---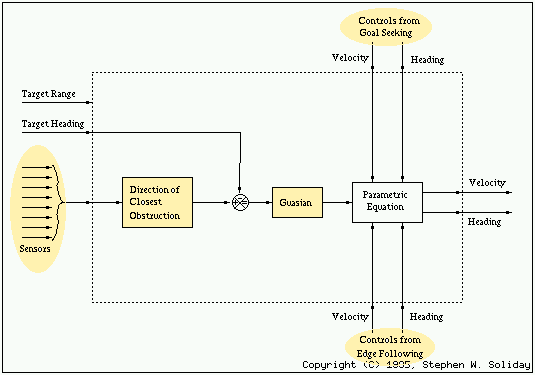 Figure 13.6: Priority Subsystem
Click inside any shaded region in the image to expand the section
Return to the Overall Diagram
---
The heart of this thesis is the hypothesis that no one paradigm can act as a Black-box. The Priority controller is a fuzzy device that decides whether the vehicle should be edge-following or goal-seeking. The results section, provides a graphical example of what happens when only edge-following or only goal-seeking is used. It then illustrates how the intelligent switching between the two allows the objective to be achieved.
< previous | contents | next >
---
This module is part of a robotics simulation that was demonstrated in a Master's Thesis entitled:

The thesis was defended by Stephen W. Soliday, Dec 1995, at the Department of Electrical Engineering at North Carolina A&T State University.